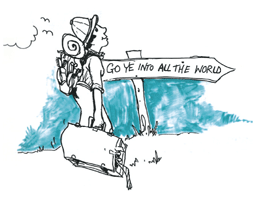 Who runs the Whitefield Christian Trust?
The Trust is administered by the following trustees:
Peter Hellawell FCA, ATII. Peter is a retired accountant and is involved with his local church
Roger Snowdon LLB (Hons). Roger is a solicitor in practice in Somerset and involved with his local church
Mary Grimes-Boyum MSc. Mary served in Nepal for 23 years, is currently working for the South East Coast Ambulance. Service & is an active member of her local church in Lewes
Mike Frith Mike is a former missionary pilot with MAF and is the founding director of OSCAR - the UK information service for World Mission.
Richard Kane Having worked in property and for various charities Richard is the driving force behind the development of National Marriage Week in 28 nations. Married to Maria for 29 years they have 3 grown up children and live in West Dorset.
The Trustees do not receive any financial benefit from the Trust. All donations go to help applicants apart from administration expenses.
A Christian Housing Service For Long Serving Missionaries
When mission workers retire – many of them don't have a home to return to. They went off to serve God at an early age and probably weren't earning enough for a mortgage. Instead, they were more concerned with the needs of others, than with their own future security.
The problem
Unless they inherit property, a home for most long-serving missionaries is just a dream. The mission allowance is just enough to live on and today's pension does not cover current rents. It can take many years to get to the top of a housing list.
Our response
The Whitefield Christian Trust was formed to help provide a solution to this problem – offering a way for returning missionaries to have somewhere to live.
The mission partners choose the location and we come in to help. Occasionally we buy the house in the name of the Trust and they pay a reasonable rent and can continue to live there for the rest of their lives. More often the Trust helps through an Equity Share Agreement. The Trust adds to capital available and the share will remain the property of the Trust. When the mission partner dies or circumstances alter, the property is sold and the money from the equity share is made available for further investment in new accommodation.
Who will we help?
We are as flexible as possible in providing homes for those who fit our criteria and who have been engaged in long-term service which is usually defined as over 20 years. Since the Trust was established, we have helped a total of over 30 mission partners, including families, couples and single people.
Case studies

Valerie is somebody we have helped. She began her work in a mountain hospital in Nepal in 1960 and, since then, has worked in community health projects across the country, while also training others to do similar work. When retirement approached, she had nowhere to call home – but The Whitefield Christian Trust was able to help her. Today she lives in a small flat on the south coast of England, partly bought with her own funds.

Peter and Sally worked in several African countries over a period of 30 years. They wanted to retire to a home near their home church in the edge of London. WCT was able to supplement their resources to make this possible. Now for the time in their lives, they own their own home. Excitingly, since moving in they have helped re-establish a local church.

Angela worked with AIM in Kenya for over 30 years. Her final work with AIM was in their UK office, using mission housing. On retirement, she was helped by WCT and is now living in the Nottingham area, where she uses her home in the service of her church. She continues to take a special interest in AIM and in supporting retired missionaries.

Ann Lycett went to work in Nepal as a teacher in the 1960's with Interserve. She enabled missionary families to continue their work as she was able to teach their children. Her work in both Kathmandu and Tansen spanned many years. When she eventually returned to England in 2006, she was without a home. Now with help from WCT she enjoys her home in Essex. Read her full story in News.
These are just four examples of some people The Whitefield Christian Trust has been able to help.